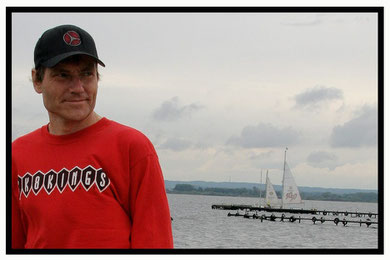 2012      
A 20 question interview with Gunter Mokulys!
How has skateboarding in Germany changed over the years?
Earlier it was all together. Street ramp, freestyle, slalom. Today, everything is separated.
Why do your close your English emails with "Sorry for my English"?
Ha, my English is so bad. I understand only the half.
When will you put out other language editions of your skateboarding books? The Street book is in English. The problem is to sending it, it is always expensive.
Freestyle in Europe seems to have more of a base than the N. American counterparts, what do you think accounts for that? I think it is simply the attempt to work with small Street contest (Paderborn) and Slalom contest (Paris) together. Freestyle is not well-organized. [In Europe there are] New organization, new people, new ideas come forward in Freestyle.
What kind of process do you have for putting together a freestyle routine for a video or contest, is that something you seem to follow when you are skating on a regular basis? I'm mostly a freestyler. But since I'm not in Sweden anymore. I am now trying more new tricks. [In] Freestyle Contest, to get the interest and respect the skater should be a free program from many different tricks. (Handstand, shove-its, ollies, kickflip, 50/50, No hand Casper, wheelies, spins). To show freestyle with wheelies and kick flips, and so to go to his two minutes shorter error-free is not ok. Every street cat can do better. Street skating is manifold.
Where are some of the coolest places you've been skating? San Francisco is one of the most beautiful spots. Always worth a visit. Philadelphia, Cuba, Japan and Rio also have beautiful spots. There are many more beautiful spots [to skate].
Where do you see Freestyle skateboarding going in our near future? Freestyle in the future. Ha. As long as the companies are in this present form, freestyle skateboarding will not evolve. Maybe develop something new this year by Canada in May New Ideas.
Will you be writing more books, how will they be different from the others? I am making a book. But first a biography for next year. A video of my 30 years skateboarding.
How many hours do you skate a day, what do you do to prepare for each session? 2 to 4 hours per day. I changed my skating now. I try more street in direction. And an old freestyle skateboarding I have to revive to the old tricks for videos.
What is your prefered skate set up? (Deck, size, trucks, bearings, wheels,etc) 7.5 deck, tensor trucks and the best roles amlängsten also keep the Skate-Kings wheels are 54mm 97A.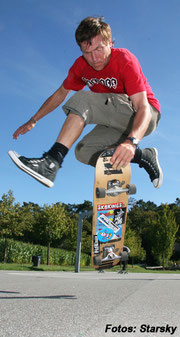 Who is your favorite AM Freestyler? There are some good amateur. Here in Europe, I think the small Ruben from Holland".
We've noticed you're winning a load of contests, do you get tired of contests or do you find them fun no matter what? I always enjoy it. I'm not about to win contest. I want to get a good rotine program. This is difficult and irritating. and I attach great value to this a fair contest for all skaters".
How has skateboarding changed your life?
Everything I do has something to do with skating. I live it.
What are the reasons you got into skateboarding and when did you start freestyling?
No idea. I started 15/05/1983.
How has freestyle changed over the past couple decades? Do you prefer the old days or modern days of freestyle skateboarding? Previously, it was like a family, freestyle. Skateboarding in general. Today is the great envy and many enemies.
Who are your sponsors? Sk8Kings and Decomposed.
What did you do during the 90′s as street skateboarding took over?
1994 to 2002 I did not go skateboarding.
How many times have you met Rodney Mullen, did you have any skate sessions with him?
A few times I went to Rodney. I've known him about 20 years and he is always impressive. He is a genius in things skateboarding.
What advice would you give to both new and old skateboarders? Have fun while skating.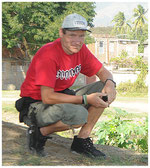 Interview für Back-Silver            Guenter Mokulys
2010
Style (bspw. goofy/regular)  Regular
Besondere Fähigkeiten/Tricks (worin bist du Experte)
Impossible, Shove-Its, Pirouetten.  Gesamtes Programm für eine Kür.
Was fährst du am liebsten? (Street/Halfpipe usw):   Flatland, Freestyle.
Wie bist du ans Skaten gekommen? Durch eine Skateboard StreetShow
Wie lange skatest du schon? 15.5.1983 bis 1993. 2002 bis heute.
Wie lange kannst du dich als Pro Bezeichnen? Seit 1987 bin ich Pro. Als Pro sollte jemand bezeichnet werden der seinen Sponsor Präsentieren kann, der auffällig ist in der Skategruppe, der ein Deck fährt, wo sein Name draufsteht, der von seinem Sport leben kann.
Hast du irgendwelche Vorbilder? Wenn ja, welche?: Habe ­keine Vorbilder. Als besten Skater bezeichne ich Rodney Mullen. Für das Auge (Style) Steve Caballero.
An was für Events/ ­Masterships/ Cupshast du schon teilgenommen? Ich leg eine Liste dabei. Zu viel um das hier aufzulisten. Es sind ca. 90 Wettbewerbe. Der Größte Skateboard Contest aller Zeiten war 1986 auf der Expo in Kanada, Vancouver die Weltmeisterschaft, eine Woche Contest, ca. 100000 Zuschauer.
Welche größten Erfolge hast du bis dato eingefahren? Die WM 1986 in Kanada, aber auch die WM in Japan, Brasilien und Philadelphia waren sehr eindrucksvoll.
Was sind deine Lieblingsskateparks oder Locations? Ich habe keinen. Es gibt viele schöne Skateparks besonders in den USA, die für jeden etwas zu bieten haben. Leider fahre ich kein street. Zurzeit fahre ich in einem kleinen Skatepark in Berlin.
Deiner Meinung nach die 10 besten Skatelocations hier in Deutschland.. Ich kenne nicht viele in Deutschland. Im Goldgrund Paderborn sehr schöner großer Skate-Park. Berlin hat auch einige schöne Skateparks und ­Streetspots zu bieten. Um den Kölner Dom Interessante ­Curbs und Treppen. Münster Indoor und Autdoor Skatepark. Belgien-Hassel (grenznah) wahrscheinlich der größte Skatepark Europas. Der Skatepark München-Hirschgarten hat schon amerikanische Verhältnisse. 
Hast du Tutorials oder Howtos/Anleitungen für Tricks? Anleitungen für Tricks. Ja meine Bücher: Das Flatland Skateboard Buch und das Streetbuch / Game of SKATE.
Weitere Informationen zu deiner Person im Netz. You Tube und Google. www.skateboardbusiness.de / Online Shop: www.marshall-skateboarding.de
Welchen Sponsor hast du? SK8-Kings, PRO-SK8-Skateboards.
Betreibst du noch andere Boardsportarten (Surfen/ Snowboarden/ Wakeboard)?
Nein, Surfen wäre noch interessant.
Was sind deiner Meinung nach die fettesten Events hier in Deutschland und im Ausland? Kann ich nicht viel zu sagen. Paderborn wird von Jahr zu Jahr größer für Street und Freestyle. Doch zu den großen Street und Ramp Events noch kein Vergleich.                                                                                                                Guenter Mokulys