Rodney Mullen    (USA)
Per Welinder      (Schweden)
Pierre Andre       (Frankreich)
Don Brown          (England)
Russ Howell           (USA)
Chester Sass          (Germany)

Christian Seewald (Germany)
Shane Rouse         (England)

Rodney Mullen
Rodney Mullen ist der Beste Skateboard Fahrer der letzten 30 Jahren. Ob Freestyle oder Streetskating, er hat Maßstäbe gesetzt in diesen beiden sehr unterschiedlichen Skateboard Disziplinen. Der Mathematik Genie hat auch die meisten Skateboard Tricks erfunden. Den Ollie Pop im Flat entwickelt. Casper Slide, Darkslide, Impossible usw. ich könnte bestimmt eine Liste von 200 Tricks aufstellen. Sehr beeindruckend, wenn man ihn Live skaten sieht. Er besitzt eine Perfektion der Ausführung der Tricks wie es bei keinen anderen Skater gibt. Rodney hat auch Freestyle Tricks ins Streetskaten gebracht, wie z.B. Impossible von Curbs runter. Seine modernen Videos sind sehr inspirierend für viele Skater, aber auch die alten Videos aus den 80iger Jahren sind noch Maßstab für viele. Hier haben wir einige Videos von 1992, die Show in Köln. Achtet bitte nicht auf die Qualität des Videos, sondern auf die Qualität der Tricks.
Trick rechts:
Ollie Air-Walk.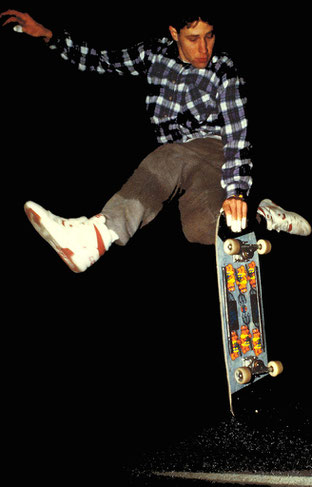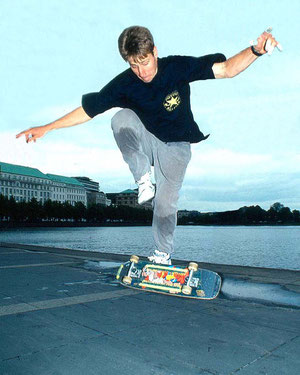 Rodney Mullen. Frontfoot Impossible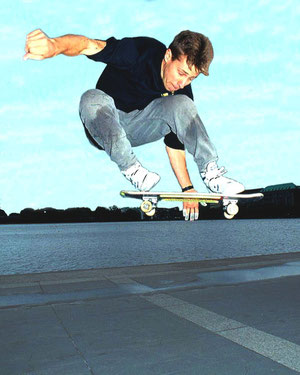 Rodney Mullen. Ollie Frontside Grap
Per Welinder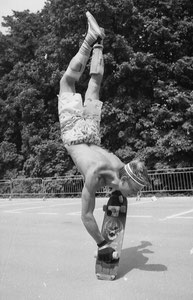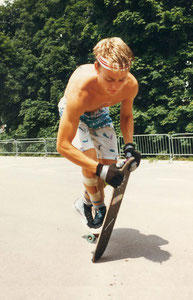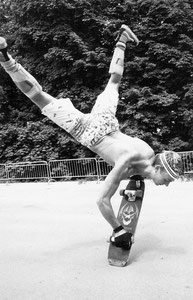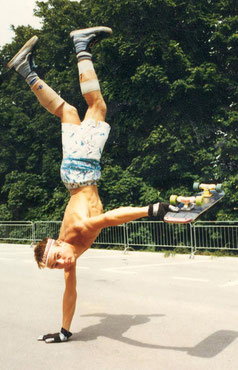 Pierre Andre Senizergues / Don Brown
Piere Andre Senizergues. Einer der Besten Freestyle-Skater aus den 80iger Jahren. Er kommt aus Frankreich, lebt seit vielen Jahren in Kalifornien und ist Inhaber von der Firma Sole ­Technology. Das sehr Schnelle, saubere skaten und verschiedene Handstand-Tricks waren seine Spezialitäten. Foto von 1991.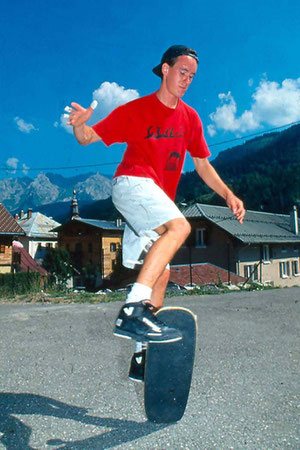 Don Brown. Einer der Besten Freestyle-Skater aus den 80iger Jahren. Er kommt aus England und lebt seit vielen Jahren in Kalifornien. Mit Piere Andre betreibt er die Firma Sole Technology. Auffällig war seine lockere Art zu skaten, alles sah bei ihm sehr einfach aus und dabei war er immer am lächeln.
Foto von 1990.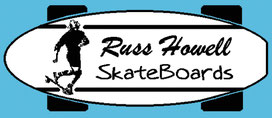 Philosophy of Acquisition and Sharing

I believe it is good to share everything with others.
Plato: "Poverty is not the diminishing of one's possessions, but rather the increase of one's greed."
The motivation to gain knowledge, possessions, power and fame varies for every individual. I was studying at California State University of Long Beach to become a Physical Education teacher in 1975 when I was asked by Long Beach Parks and Recreation to teach a skateboarding class. My students learned quickly and I was soon faced with the question of whether to teach them everything I knew, or hold back and maintain a prideful superiority. The decision was easy and also enlightening. My own skills and opportunities began to soar immediately after I confirmed my dedication to use all that I had to benefit others. The 1975 Del Mar Bahne/Cadillac Nationals were held in the Spring and my students encouraged me to enter. I won the title of National FreeStyle Champion and began my professional skateboarding career.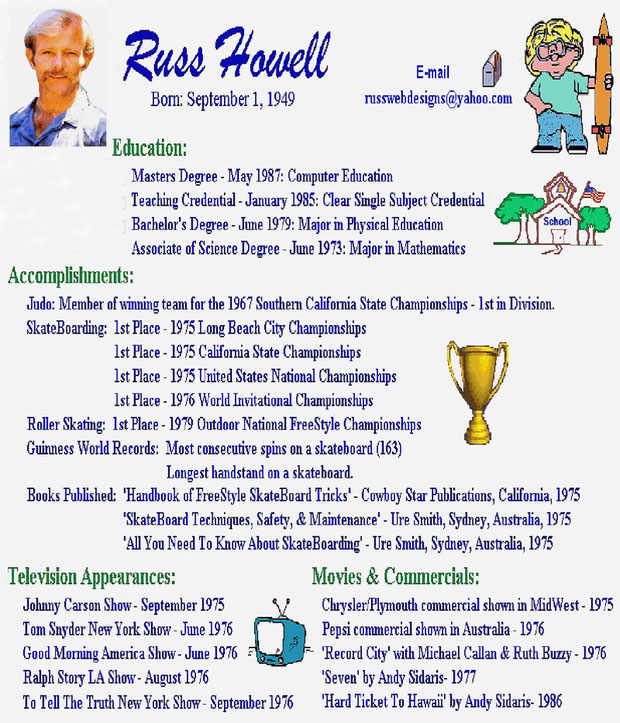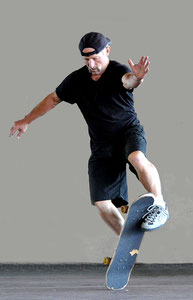 Russ Howell: No-Hand 50/50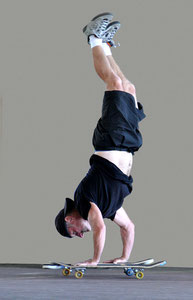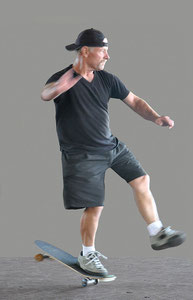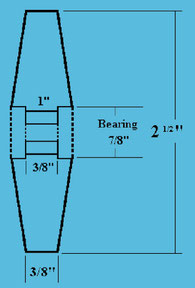 Special wheels for pirouettes
My ability to spin was never motivated by pride, but rather to see how far I could push the limits of my sport. I share the following Skateboard 360 Spinning Tips so that others may learn from my observations and push the limits of skateboarding even higher. It would cause great personal satisfaction to know that someone else was able to use my experience as a stepping stone to reach greater heights than I have acquired
Knowledge: The cognitive awareness that something exists or can be done.
Learning: A change in behavior enabling someone to replicate a specific action.
Wisdom: The application of knowledge and/or learning to benefit others.
 Skate Forever,
Russ Howell                  http://www.skatewhat.com/russhowell/
Chester Sass
Köllefornia Cup 1991, Köln. Freestyle-Skateboarding mit Chester Sass.
Europa Meisterschaft 1992, Freestyle-Skateboarding mit Chester Sass in der Halle Münsterland, Münster.
Christian Seewald
Europa Meisterschaft 1992 in der Halle Münsterland in Münster. Freestyle-Skateboarding, Christian Seewald.
Karl Johan Richter
Karl Johan Richter aus Berlin, ist ein Freestyle Skateboarder aus den 80iger Jahren.
Hier bei einem Contest AES-Cup 1989 in Hildesheim.
Shane Rouse
Europa-Cup 1989 in der Essener Grugahalle. Skateboard-Freestyle Kür von Shane Rouse.
Shane Rouse ein Freestyle Skateboarder aus den 80iger Jahren. Ein starker Contest Skater, der sauber seine Tricks vorführte und das sehr gut zur Musik.