Freestyle / Flatland Skateboarder
Guenter Mokulys    (Germany)
Tony Medina          (Spanien)
Türi Zoltan              (Ungarn)
Horand Thönges     (Germany)
Albert Kuncz           (Ungarn)
Kevin Harris          (Kanada)
Lillis                     (Schweden)
Kilian Martin         (Spanien)
Sebastian Heupel (Germany)
Fabio Jaspion       (Brasilien)
Witter Cheng       (USA)
Matheus Navarro (Portugal)
Eddie Haack        (Germany)
Andy Timmreck   (Germany)
Rene Shigueto    (Brasilien)

Kilian Martin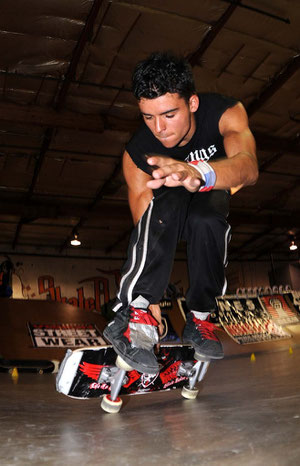 Kilian Martin, Coconut Wheelie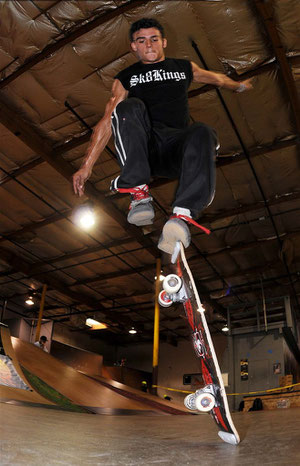 Kilian Martin. Over the Truck.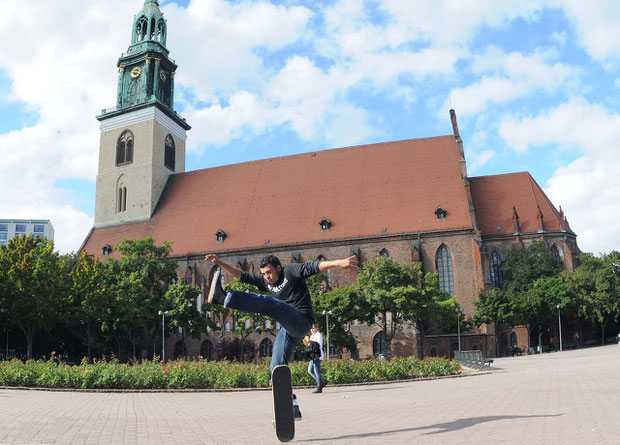 Kilian Martin, 50/50 (Karate Kid). Der Spanier lebt zurzeit in Oceanside-Kalifornien, hat ein Pro-Deck-Model bei der Firma Powell. Er verbindet Freestyle skaten mit Streetskating und dadurch entstehen richtig schöne Skateboard-Videos. Schaut hier:   Blank Canvas
Rene Shigueto Freestyle / Flatland Skater aus Brailien.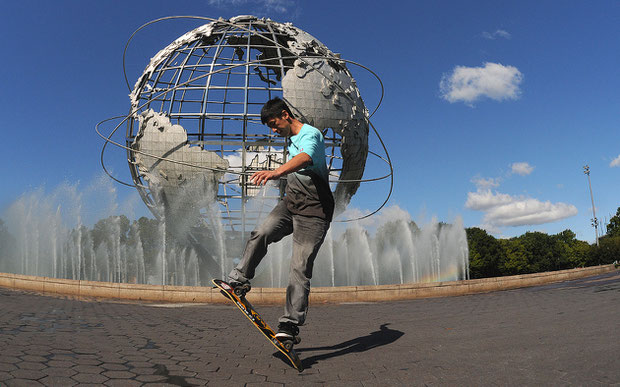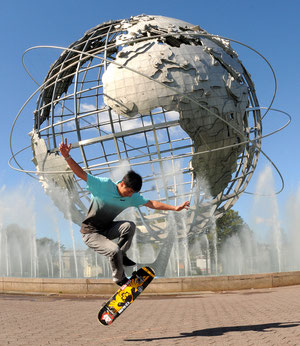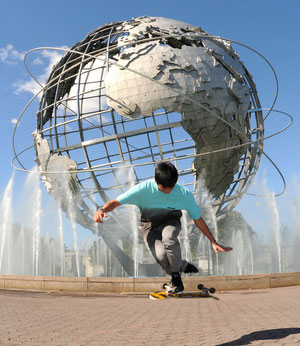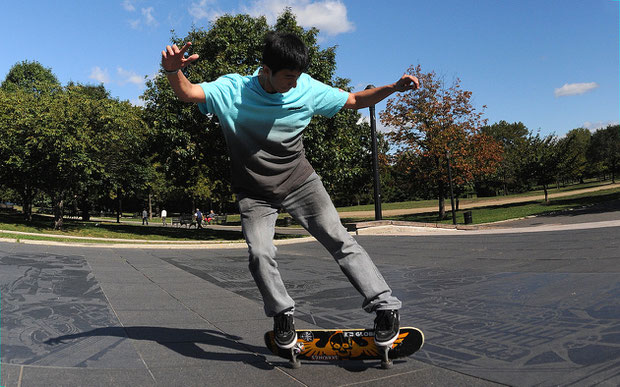 Matheus Navarro
One Skateboardco // Matheus Navarro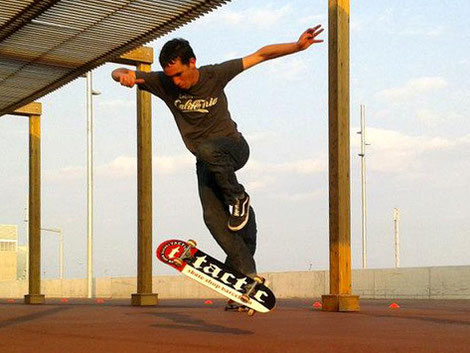 Toni Medina aus Barcelona (Spanien)
Videos von Toni aus Oceanside (Kalifornien) und Barcelona.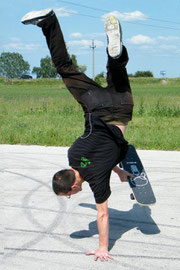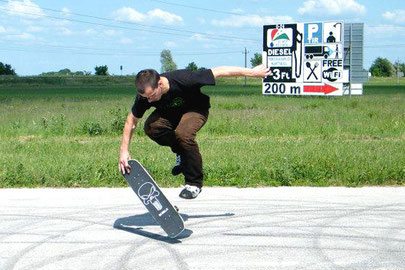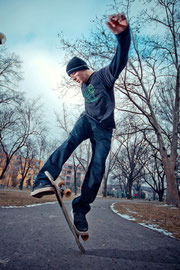 My name its Turi Zoltán.
Hungaryan freestyle skateboarder.I starting the skate in 2004. 
When i hawe time, i makeing freestyle shows/demos in Hungary and Germany. 
Here its my results:
2005 Budapest Hungary Global Attack freestyle contest 2th Place
2006 Samsung Tour Freestyle Contest 2th place
2009 Paderborn World Cup 10th place
2011 Paderborn world Cup 2th place
2012 München Rocket Freestyle contest 4th place
2012 Paderborn Freestyle World Championship 6th place.
Bye Türi Zoltan.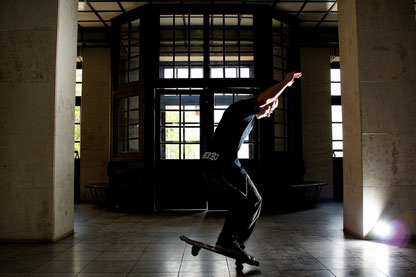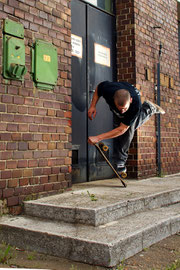 My name is Horand Thönges, I´m from Munich (Germany). I starting my skateboarding 1994 as "Street"-Skateboarder. In 2004, I had a skateboard accident  and had to break three years...
2007 by a randomly I came to the freestyle skateboarding. My doctor said no but no matter..I cant stop it..I love it ! Now I give courses and workshops for street/and freestyle skateboarding do shows, demos and have a own freestyle Website/Team and Shop:            www.freestyle-rocket.com
Here its my "Street" results:
1996  - Bad Homburger Rollbrett Wettbewerb (Half Pipe 9th place)
1997  - Skateboardcontest Niedereschbach (Half Pipe 7th place)
1997  - Skateboardcontest Frankfurt/Hoechst (Street 6th place)
1998  - Eröffnungswettbewerb Nieder Mörlen (Street 2th place)
1998  - Streetcontest Kreissparkasse Bad Nauheim (Street 1th place)
1998  - Skateboardwettbewerb Limburg (11th place)
1999  - Railslide Skatecontest Frankfurt (9th place)
2000  - Skateboard Wettbewerb Lion, France (8th place)
2001  - Einweihungswettbewerb Freising (2th place)
2001  - Skate-champ-contest Rosenheim (5th place)
2002  - Skateboardcontest Starnberg (3th place)
2003  - Skatecontest Freimann (12th place)
2003  - EuroSkate-Contest (5th place)
2004  - Skatecontest Milano, Italy 6th place)
2004  - EuroSkate-Contest (7th place)
Here its my "Freestyle" results:
2011 Paderborn Freestyle World Cup 10th place
2011 Nauheim Freestyle Contest 9th place
2012 München Freestyle German Championship contest 5th place
2012 Paderborn Freestyle World Cup 12th place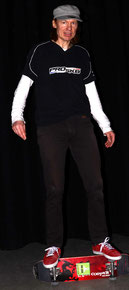 SKATEBOARDER, ACTOR AND DESIGNER. WORLD CHAMPION, EUROPEAN CHAMPION AND SWEDISH CHAMPION IN FREESTYLE SKATEBOARDING. 30 YEARS ON A SKATEBOARD AND NO SIGNS OF SLOWING DOWN.
Lillis saw a skateboard for the first time in his life 1977 and knew that moment that he wanted to be a skateboarder. It took him however one complete year to convince his parents to buy him a skateboard. Finally, the summer of 1978, Lillis stepped on his very own skateboard. Why skateboarding attracted him he has no idea of, he just knew that it was something he had to do, something that was already a part of his life. These days he talks about the freedom, the creativity, the expression of one's self through skateboarding, integration of body and mind and pure and crazy fun. But back then in the late 1970's, it was simply his destiny. And still is.
Lillis also has an intense interest in acting and is part of a local theater group, Skokloster Teatersällskap, where he trained under the guidance of swedish actor and director Willy Tappert. Lillis has had the lead roles as Lars Hård in the play "Lars Hård" by Jan Fridegård and as Mascarille in "The Pretentious Young Ladies" by Molière and Jean in August Strindbergs "Fröken Julie".
His debut in front of the cameras was for the pilot of "1251 – Folkungarnas tid", where he is portraying the 1300th century Swedish king Knut den Långe.
Summer 2011 Lillis had one on the lead in the independent short movie Svartmunkarnas Krönika – Codex Dei, working with famous swedish actors Per Ragnar and Kim Anderzon
Being a fan of Star Trek, Lillis is happy to have landed the role as the android Commander Andrew in the Norwegian fan based Star Trek movie Gatekeeper. Filming is scheduled for 2013.
Lillis is also a very creative web and graphic designer. He goes to great lengths to come up with the perfect balance between form, function and simplicity.                                Webside: www.stefanlillisakesson.com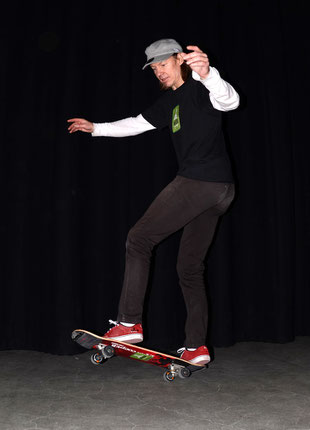 Contests highlights
1st World Championships 2011, Sweden
1st World Championships 2000, San Fransisco
2nd World Championships 2007, Canada
2nd World Championships 2006, England
2nd World Championships 2005, Brazil
2nd World Championships 2003, Germany
2nd World Championships 2001, USA
3rd World Championships 2008, Brazil
1st Reverse Freestyle Open 2003, Sweden
1st European Championships 2005, England
1st European Championships 1987, Sweden
1st SKF Euro Cup 1990, Sweden
1st Chit Challenge, New Jersey 2001
1st LA Barrio Games, Los Angeles 2001
1st Swedish Championships 15 times
1st Swedish Cup, several times
2nd NASS 2009, South and West, England
2nd Grand Prix Trocadero 2008, Paris, France
2nd Summer Classic 2008, Glendale, USA
2nd Venice Beach Contest 2010, USA
3rd All Japanese Sk8 Contest 2012, Japan
3rd World Cup 2010, Paderborn. Germany
3rd World Cup 2009, Paderborn, Germany
Guinness World Records
The longest One wheelie (manual) on flat: 39 meters
The longest One wheelie (manual) on flat: 68 meters, 54 centimeters. Most Dogwalks in 1 minute

Nominations
Nominated for Freestyler Sk8er of the year, 2010.

Hall of fame
Inducted in the Freestyle Hall Of Fame 2008.

Shows on television             Sponsors 
Rampljuset                             Reverse Freestyle
Guinnes Rekord-TV                 Tracker Trucks  
Adrenalin, TV4                        One Off 
Edge TV, ZTV                         E's
Melodifestivalen                      Future Clothing
Lilla Sportspegeln
Fantastiskt
Medix
Talang 2009
Events:                                                                 Festivals:                         Tours:  
"Rotary 100 Year" (the Swedish King in the crowd).  Stockholm Water Festival   BMX Skolshow
Ad Agency Leo Burnett/McDonalds                         Piteå dansar och ler           Svenska Actionlandslaget
Vivodagarna, Gröna Lund amusement park               Luleåfestivalen                   Headspin
Cykelns Dag, Karlstad                                                                                    JC Easy Giving Festival
Vättern runt                                                                                                    Neosport
Vätternfestivalen                                                                                             Showtime
Friskis & Svettis                                                                                             Swatch Rad tour
Several shows at discoteques                                 Other:
Shows at schools, hopping malls, festivals, clothing stores,sports stores, shoe stores, trade shows & more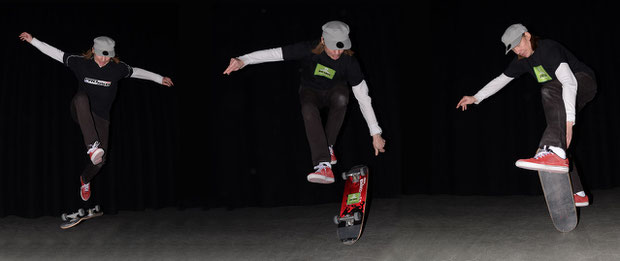 360° Kickflip                                          One-eighty Fingerflip                               50/50
Freestyle Skateboarding at Skatepark Ultrabowl, Malmö-Sweden. Skater: Kevin Harris and Lillis.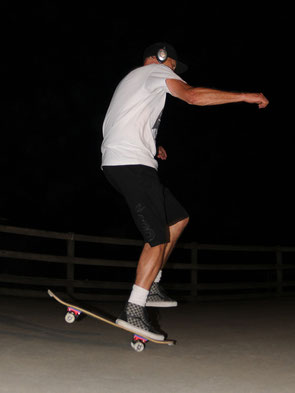 Kevin Harris
Kevin Harris aus Kanada.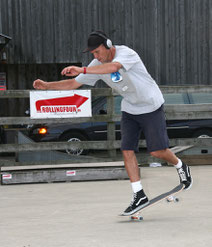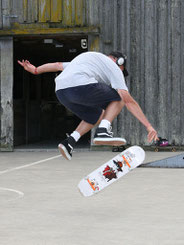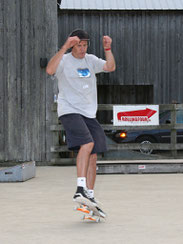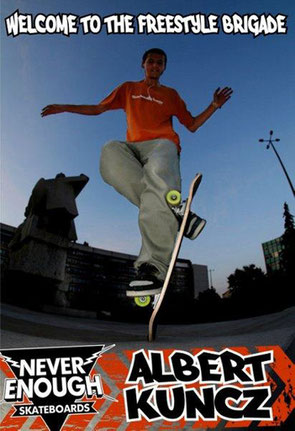 Albert Kuncz
Vear of Birth: 1986
Home: Öskü / Hungary
Sponsors: Never Enough Skateboards, Decomposed Skateboards, Withered Skateboards, Khiro Skateboard Products. And my secret friend from Netherlands.
Years skating: Started on 15th October in 2002.
Skateboarding influences: Most of the time unique tricks from each riders, the trick what you can se just from one person.
Contests:
1 time 2nd in a Hungarian Contest
6 times Hungarian freestyle skateboard champion.
I won three other freestyle skateboard contest in Hungary.
WFSA Cyber World champion in AM category 2006.
European cup Germany AM category 1st place (Paderborn) 2008.     World cup in Germany AM category 1st place (Paderborn) 2009.
World cup in Germany AM category 2nd place (Paderborn) 2010.
World Championship in Sweden PRO category 4th place (Malmö) 2011.
What is Skateboarding for you. The way how I express my self, the way how I communicate.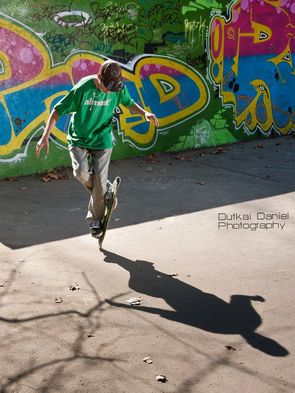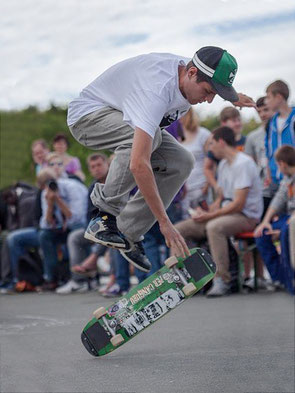 Starsky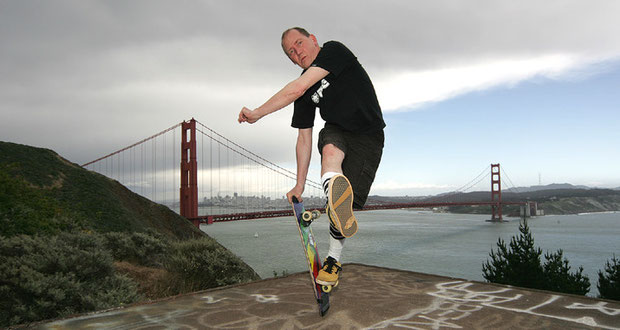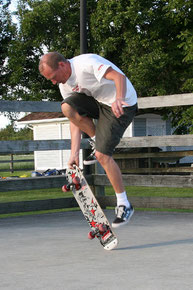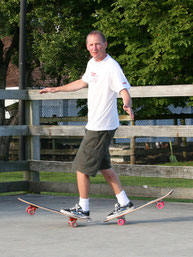 Starsky aus Berlin (Germany)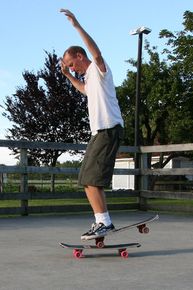 Robert Wagner, age: 21, from Germany.
Years of skateboarding: 10 years but freestyle since summer 2011
Sponsors: - (Am)
Favorite Riders: maybe Primo and Diane Desiderio..,but i think each individual create great moves and styles. Only the right heart and spirit is important !
Any words: i like it very much to meet friends or to close new friendchips, its unbelievebale how much money they spend for long traveling to meet each other again and again. Skateboarding is a personal art who everyone can find his path. good greetz to all.
Andy Timmreck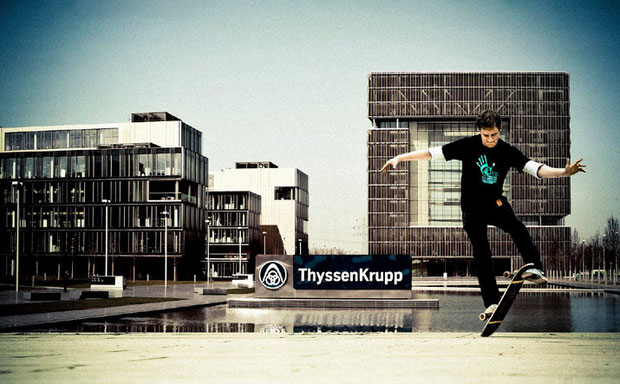 Andy Timmreck, No-Hand 50/50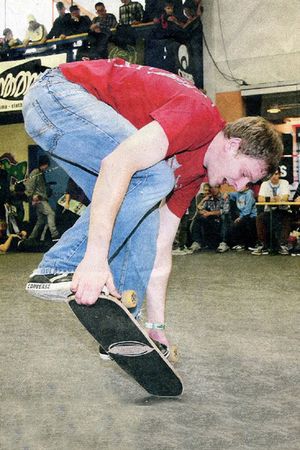 Andy Timmreck, No-Hand 50/50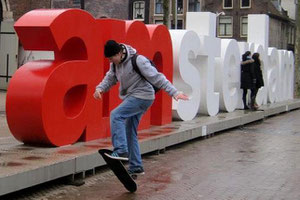 Andy Timmreck, No-Hand 50/50
Skateboarder, Gustavo Santana from Rio de Janeiro (Brasilien) I am 19 years old, I started skating at age 13. really like to practice freestyle skateboarding, it's a pretty cool sport. My idols are rodney mullen, gunter mokulys, per welinder, kevin harris, etc..
Fabio Jaspion, Freestyle / Flatland Skater aus Sao Paulo, Brasilien.
Witter Cheng vs Guenter Mokulys
Flatland - Skateboarding. Witter Cheng vs Guenter Mokulys. Filmed by Witter Cheng. Elko – Nevada. USA.
Eddie Haack
Eddie Haack, Beruf - Straßenkünstler
Eddie Haack verdient sein Geld mit Skateboardfahren auf der Straße, als Straßenkünstler. Er hat seit vielen Jahren einen festen Platz am Kurfürstendamm. Mit den wenigen, aber spektakulären Skateboard-Tricks und seinem amerikanischen Dialekt Schaft er es immer wieder Zuschauer zu begeistern. Seit einigen Jahren ist er auch auf der Bühne und bei verschiedenen Veranstaltungen dabei. 
Eddie Haack und Guenter Mokulys, die Skateboardmasters.
Eddie Haack, Streetshows am Kurfürstendamm in Berlin.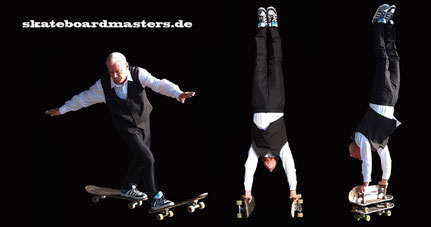 Eddie Haack, der Künstler bei den Skateboardmasters